reinbold RB 100 Flexible to 200 Flexible S Briquette Presses
RB 100 Flexible - RB 200 Flexible S series
for individual configuration by combining components based on the application...

With its modular construction, the RB Flexible series can be individually tailored to customer-specific space requirements. It can be adapted well to existing production plants and can be configured according to the throughput desired.
Depending on throughput, tandem, Trio, or Quattro design combinations are possible.

RB 100 Flexible - RB 200 Flexible S series was designed especially for industrial applications.

Ask us about this product
Ask us about this product
Standard Features
- Fast Hydraulic- Profile Rotor.- Second Row of Knives- Control cabinet with Siemens PLC- Automatic stop when hopper empty.- Removable exhausting channel- Performance enhancing pacing of hydraulic sliders
---
Maximum material moisture should not exceed 18%.
---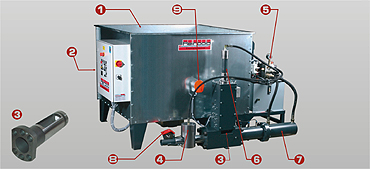 1 = Large reserve container with high-quality discharge unit.(Agitator discharge with integrated screw conveyor)
2 = All mechanical movements can be performed manually using the hand controls on the switching cabinet. The PLC controls ensure user-friendly, fully automatic operation.
3 = Hardened, replaceable compressor channel bushings are standard equipment on all of the machines.
4 = Automatic opening of the tongs ensures trouble-free, constant briquettes production.
5 = Hydraulic drive with a power rating of up to 22 kW Optional: Oil cooling, low oil switch, and oil temperature measurement unit.
6 = Filling cylinder
7 = Hydraulically controlled press cylinder
8 = Automatic strand length monitoring
9 = Automatic on/off (option)
These presses have high-volume reserve containers with an integrated screw conveyor. The material passes through the screw conveyor into the filling shaft, where it is pre-compacted in the filler cylinder before being conveyed to the press channel. In the channel, the press cylinder presses the material to be compacted into the conically closed tongs until it achieves the desired briquette hardness. Then the tongs open and the briquette is ejected.
reinbold azr RB 100 - 200 & tHE pluS SERIES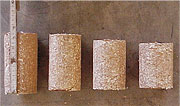 Briquette extension (optional)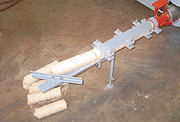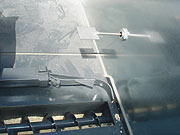 The fully automatic delivery unit is installed at the base of the storage tank. This unique worm precompactor ensures a consistent briquette length.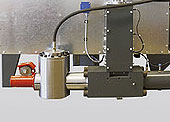 Optimised pressing results are achieved with the cylindrical pressing chamber. The hydraulic filler cylinder compresses the material at high pressure into a compact briquette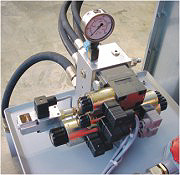 The hydraulic unit provides the press with power. Specification according to requirements and application.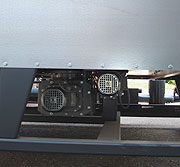 Two high-powered motors drive the screw compressor and the delivery unit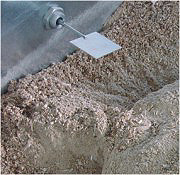 The filling level gauge (automatic ON/OFF) guarantees fully automatic operation.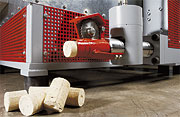 The strand length monitor ensures a constant, high production rate of briquettes, even after a change of materials.There is also a possibility for connecting transport pipes.
---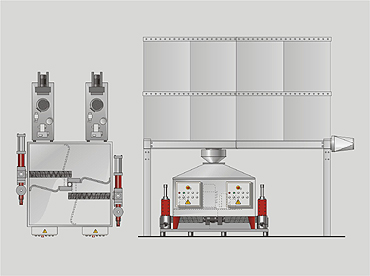 Throughput (approx. kg/h)
*Throughput is material dependent / ** total weight, deviations are possible depending on the design.

Maximum material moisture should not exceed 18%
---