reinbold RB 20 - 80 SV Briquette Presses
---
RB 20 SV - 80 SV Prestige series designed for small to medium throughput;
The RB 20 SV - 80 SV Prestige series not only has compact design, but it is also features the same robust features you find in the larger briquetters from Reinbold.

Prestige series models are supplied complete with hydraulic oil and a safety switch for oil temperature.

Many materials can be compressed, such as:
Hard or soft wood, planing materials, wood chips, sawdust and sanding dust when mixed with other materials, wooden materials, particle and chipboard, multiplex, OSB, paper, cardboard, and other material, such as straw, hay, Styrofoam...

Ask us about this product
Ask us about this product
Standard Features
- Fast Hydraulic- Profile Rotor.- Second Row of Knives- Control cabinet with Siemens PLC- Automatic stop when hopper empty.- Removable exhausting channel- Performance enhancing pacing of hydraulic sliders
Maximum material moisture should not exceed 18%. The output unit can be ordered on Left or Right of the hopper.
---
reinbold azr RB 20 - 80 SV Features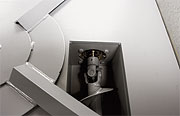 The agitator feeds the material to be compacted via a screw conveyor into the press block.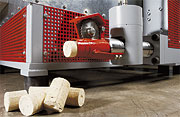 Option: Automatic strand-length monitoring ensures trouble-free, constant production of briquettes of equal length.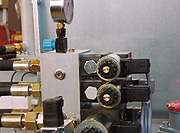 A sophisticatedhydraulic control for economic efficiency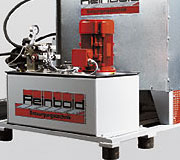 The compact and easy to maintain hydraulic.
---