reinbold AZR-K Range Single shaft shredders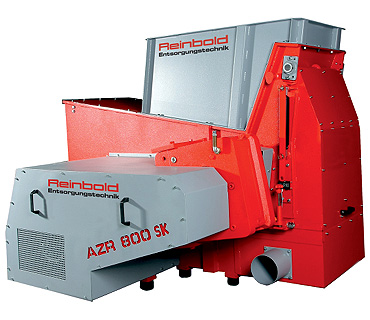 The AZR-K 800 to AZR-K 2000 series of shredders and the RSM series of granulators deliver powerful and reliable performance:
These machines have been built to handle large, bulky plastic items such as sprues, sections, and purgings, shredding them into a compact, dust-free end product. In a two-stage solution, the RSM series granulators crush the previously shredded material into a final grain size of up to 3 mm. Intelligent design in a compact unit that delivers maximum reliability guarantees cost-efficient shredding.
---
Applications:
• Large-volume and awkward plastic materials• Lumps of production waste, plastic containers• Sheeting, textiles, paper, cardboard• Larger quantities of production waste, e.g. rods, sprues, defective parts
Benefits / Characteristics:
• Extremely solid, stable build quality• Shredding in one step down to a final grain size of approx. 12 mm• Homogenous shredding without striation• Quick-change screen, easy knife changes• 3 rotor options• Various different hoppers• Slow running (rotor runs at 80 rpm)• Very quiet and energy-efficient• Many control options (auto reverse, etc.)
---
For more information please consult our technical brouchure.
---
reinboldSingle stage and two-stage shredding using rsm granulator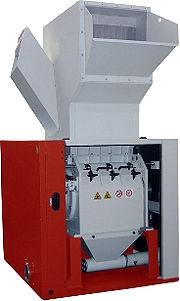 Applications:
• Plastic product waste such as sprues, other scrap• Injection moulded items• Sections, plates, sheeting Purgings• Blow moulded articles and waste
Benefits / Characteristics:
• Delivers high quality shredded material• Wear-resistant• Fast and easy maintenance• Universal, versatile applications• Ideal for the heaviest use• V-cut technology with double diagonal cut• Optimum conveying of material to be cut to the rotor centre• Solid, bolted construction method• Intelligent machine design• High throughput• Opens without using tools • Easy maintenance and cleaning
For more information please consult our technical brouchure.
---