FD 4 Four bin fine dust unit
ATEX Panel




Automatic Filter Bag Cleaning

Control Panel Included

Totally Cladded Body
Highly Efficient RB type fan.

Internal or External Roof




Collection bins or bags

Silencing Kit
1 to 3 Weeks Lead time




Two Shipping options. Build up or in 2x Halfs
Ask us about this product
Ask us about this product
Key Features
Small & Compact Filter Unit

Duty from 500 to 2,000 m3/hr.

6mm Mild Steel, Dynamically Balanced & efficient impeller.
Start/Stop & Auto Clean Controller.

Low Noise Levels
FD 4 - IN detail
Wood Waste Controls FD 4 unit is available with three different filter areas, 28m2, 37m2 and 49m2 which are huge if you consider their space saving design. Solely developed to meet the demands of modern CNC router machines that require high extraction rates and continuous use.
The FD 4 is powered by our 7.5kW fan with PB paddle blade impeller or optional highly efficient RT type impeller.

As with all our FD range, this unit can be shipped with an internal or external roof, collection bins or collection bags, silencing kit and optional A.T.E.X explosion relief panel.
This extractor is suitable for sanders, spindles, routers, planner, saws, edge banders,CNC wood working machines and many other types of machinery.
Typical Applications:
Wood Working Industries


Timber Industries


Furniture production & plant waste management



Bulk materials manufacture
---
FD 4 - Dimension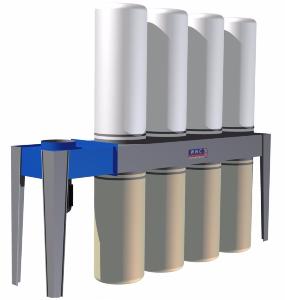 3550mm L x 700mm W x2560mm H
3350mm L x 700mm W x 3010mm H
3550mm L x 900mm W x 2560mm H
3550mm L x 900mm W x 3010mm H
TH = Tubular Filters Extra High
TW = Tubular Filters Extra Wide
TWH= Tubular Filters Extra Wide & Extra High
You can purchase this here.