FD 1 Single bin Multipurpose unit
Automatic Filter Bag Cleaning




Control Panel Included

Totally Cladded Body

150mm Inlet




Antistatic Filters as standard.
Internal or External Roof




Collection bins or bags

Silencing Kit

Return Air Ductwork

Reduced Height Model
1 to 3 Weeks Lead time




Can be shipped fully assembled

Or base built, top section flat packed.
Ask us about this product
Key Features
Small & Compact Filter Unit

Duty from 500 to 2,000 m3/hr.

6mm Mild Steel, Dynamically Balanced & efficient impeller.
Start/Stop & Auto Clean Controller.

Low Noise Levels
FD 1 - IN detail
Introducing Wood Waste Control's smallest extractor specifically designed to extract fine dust or fumes. Because of its space-saving size, the FD 1 is ideal to be positioned locally to the source of the contamination.
Two motor options are available 1.5kW or 2.2kW 3 phase depending on the extraction volume needed.

The FD 1 can be tailored to suit individual requirements, such as an internal or external roof, collection bins or collection bags, silencing kit, and optional A.T.E.X explosion relief panel.
The FD 1 unit is ideal for Sanders, spindles, routers and small CNC woodworking machines.
Typical Applications:
Wood Working Industries


Timber Industries


Furniture production & plant waste management


Bulk materials manufacture

---
FD 1 - Dimension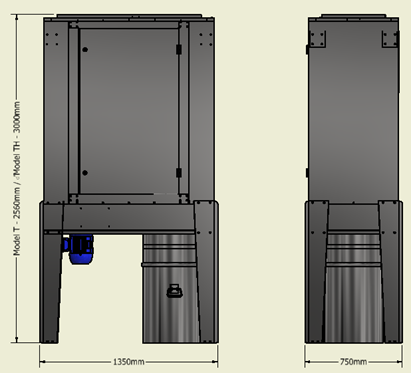 TH = Tubular Filters Extra High
1310mm L x 700mm W x 2560mm H
1310mm L x 700mm W x 3040mm H
1310mm L x 700mm W x 2560mm H
1310mm L x 700mm W x 3040mm H
---